Quick To-Do Pro is the Professional version of an award-winning small and easy-on-use Personal Information Manager.
Its main benefit is to track your daily to-do list as well as keep diary, remind you about anniveraries, holidays, etc.
Quick To-Do Pro can also act as project-management software, letting you assign tasks to any user-defined project and/or to a person responsible for the task. At the same time it is a very small and efficient program.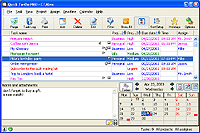 For more information visit Quick To-Do Pro homepage.
Founded in 1996, Capstan Australia Pty Ltd is a leading provider of business software solutions for Microsoft Windows. The Company's products are currently licensed in more than 60 countries. Our clientele includes large corporations, government education entities and individual users worldwide.