Contact Expert is an ultimate contact manager for every business or home user. Manage your contacts alone or share them over your company's Local Area Network (LAN) seamlessy.
Contact Expert provides an easy way to view maps online, dial a phone or send mass emails to your contacts.
Contact Expert will let you track contact-related activities such as emails, visits, calls, etc.
Print extensive reports, print labels or envelopes or save them as HTML, MS Word, MS Excel or WMF file.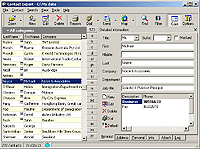 For more information vist Contact Expert homepage.
Founded in 1996, Capstan Australia Pty Ltd is a leading provider of business software solutions for Microsoft Windows. The Company's products are currently licensed in more than 60 countries. Our clientele includes large corporations, government education entities and individual users worldwide.